kevin flanagan - tenor sax
chris ingham - vocal/piano
andrew j. brown - acoustic bass
russ morgan - drums

produced by Adrian Utley




SECURE ON LINE ORDERING WORLDWIDE WITH PAYPAL CD'S ARE £10.00 (INCL P&P).

OR ORDER 'TEXTILE LUNCH' FROM AMAZON.CO.UK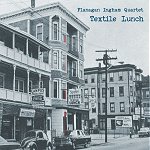 "...arrived in Lowell 11:05 p.m. on Trauways bus from New York- took approximately 6 hours through New Haven, all of Conn., then rest- stop in Worcester (Chas. Olson's birthplace) and on to Lowell, where we walked first up Central to Merrimack St., then left towards City Hall to see Moody Street bridge and Kerouac's residence at 736 Moody (when he was in highschool), but it was cold and we needed a hotel room (at first figured we could get one on Moody somewhere) so I stopped at phone booth (first looked up Sampas' bar where K. hung out in later years, but no listing) and Marshall suggested looking up hotels, and only one in downtown Lowell (as advertised) was the Kenmore, on Bridge St. We looked on map of streets and walked back up Merrimack to Prescott, turning (after mistaken turn past Lowell city auditorium and across scummy canal on bridge to Bridge St., two blocks down being the old redbrick Kenmore (like most old Lowell buildings). Taciturn crewcut skinny Canuck in bedroom slippers cut in front of us..."

extract from 'Kerouac's Town' by Barry Gifford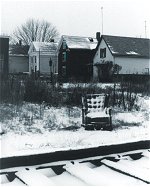 back to top

TRACK LISTING
1. Devil May Care
2. You Would Rather Have The Blues
3. Disapointed
4. Maxine
5. New Man Blues
Textile Lunch On Moody St
6. Moody Street
7. One Fast Move
8. That Was The Year
9. St Theresa
10. Lew's Gone
11. Warm Valley
12. Calypso's Seaward Project



33JAZZ 052CD


"A cool school vocalist and pianist of considerable ability...impressive sax hero...uncluttered production."
MOJO

"One of Britain's most original bands, proving yet again that restraint and intensity make a uniquely compelling combination. Ingham's vocals are as cool as ever and Flanagan's saxophone even more piquant."
OBSERVER

"Like Zanzibar, it warrants much praise...wit and irony abound."
THE TIMES

"Melody, good-humour, warmth and swing in a contemporary setting. An extraordinary suite...These guys have really captured that New York, small group witty song style."
JAZZ NOTES BBC RADIO 3